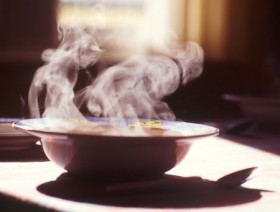 Ingridients:
2 tbsp. extra-virgin olive oil

2 Cups shallots

2 cups celery

2 cups spinach

2 tbsp. fresh miso

6 cups water

4 cups carrots

1 cup chopped shitake mushrooms

1 cup whole wheat noodles
Directions:
In a medium skillet, heat olive oil.  Add chopped shitake mushrooms, shallots, carrots, and celery and stir until browned 2-3 minutes.  Then add the boiling water, vegetables, and pasta.  Simmer for 7-10 minutes. Add the spinach.  Dissolve the miso in a bowl of warm water.  Add this to the pasta and vegetables.  Serve in a bowl topped with chopped green onions if desired.
8 servings
Carbohydrate - vegetables = 2
Carbohydrate - grain = 1
Fat = 1
This soup can be a non-traditional breakfast, snack or part of lunch and dinner.